Traders can set up their strategy's privacy level from the strategy's analysis page. Darwinex offers three levels of control over traders' intellectual property.
Hide strategy. For traders who don't have a DARWIN yet, we offer the option to hide the trading strategy altogether. Upon activating this feature, other users will not be able to find the strategy in the Darwinex search engine not even if they know its name.
Hide trading journal. Other users will not be able to see the details of any of the trades in the trading journal. Even if traders don't activate this option, by default the last 3 positions will be always hidden in order to protect traders' intellectual property and to avoid anyone being able to copy the strategy.
Hide assets traded. Other users will not be able to see the assets traded in any of the graphs/statistics for the strategy or for the DARWIN.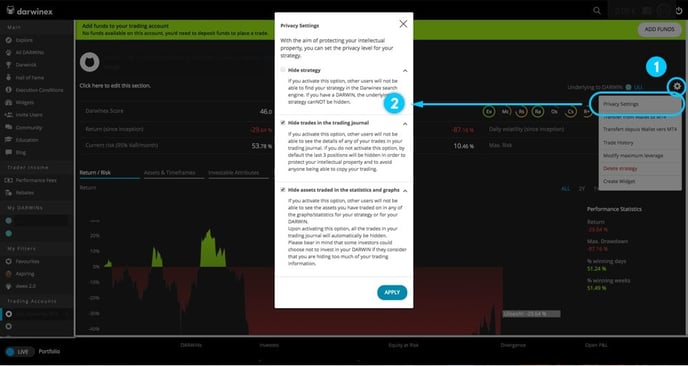 For more recommendations about setting up a live strategy, please check out: