hI Vipro,
Hope you have a good month and recover you profit trading.
Good Luck
One more week
Added $84 to trading account of VLR. Unfortunately, this was last allowed fund operation via credit card, because I reached limit $5000. In closest future there will be no more funds operations, because minimum amount via bank is $500, and with average speed $100 per week it will takes ~5 weeks for collecting $500. So, now I plan to grow other trading accounts outside of Darwinex each week with smaller amount than $500.
Total Following Live Balance in Myfxbook is $48,221.08.
I made changes to trading account on Myfxbook (Vipro M Alpha) which was similar to VLR, so it is no more correctly to compare directly VLR and Vipro M Alpha there. In Myfxbook I combined all strategies from VLR, VLS, and VLT into one account, so now Vipro M Alpha is a portfolio of all my open Darwins and also forth Darwin, which not started yet in Darwinex.
Two unsuccessful weeks
Just continue work…
Three more weeks
During that period was moved part of funds from trading account of VLS and VLT to VLR. Work on the next darwin is going to finish. And just continue work…
You are welcome, profitable month
By the way, it is Summer already.
One more month
On VLR started new drawdown.

Started optimization process of Expert Advisors for next currency pairs for fifth future Darwin.
Started account for fourth Darwin, waiting for collecting needed experience for Darwin's creating.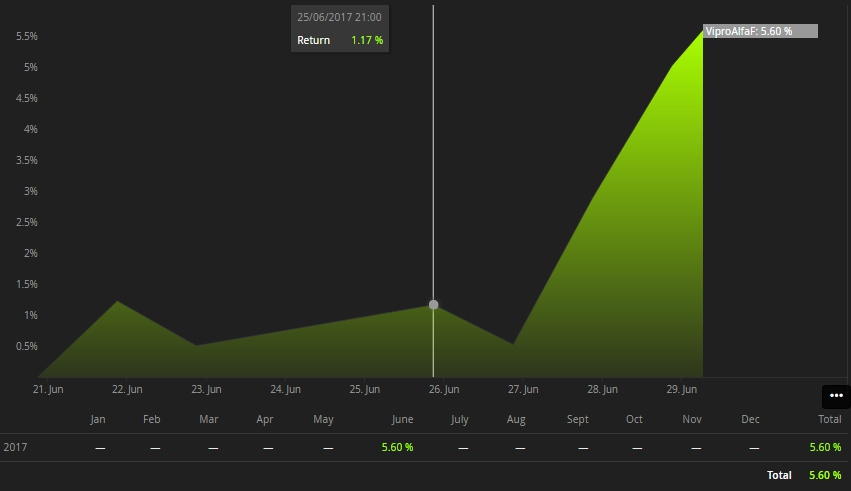 ---
In April 2017 demo-portfolio was open for my Darwins VLR, VLS, VLT. Last month graph is:
Using different currency pairs for diffrent Darwins brings low correlation between Darwins (and good diversification):
Half of the last month of summer
At present forth Darwin VLB started already.
Opened and start trading new account for fifth (and last) Darwin. For this Darwin optimization for some currency pairs is not complete.
Also investnments in trading was reduced: closed live portfolio with 0% profit and for all Darwins setted equity at $500 level.
Refactoring almost complete
Starting from December 2018, work on refactoring of the Expert Advisors' program code began. The main goal was migration from MQL4 to MQL5 for ability of testing trading strategies with multiple currency pairs at once.
At present code migration is complete and started optimization parameters for diffrent currency pairs. The target is 5 batches of 6 currency pairs which used in my Darwins initially.
The alpha version of first batch started at March. The second batch - a few days ago.
Previous strategies running on demo accounts of other broker and copying to Darwins. Now strategies will run on MT5 demo accounts of Darwinex and also copying to Darvins.
There is the first Batch 1 and the second Batch 2.
At present trading running only on VLR, VLS, and VLV and each Darwin used some mix of old MT4 and new MT5 strategies.
In the future, the old strategies will be gradually disabled and each Darwin will only have its own set of 6 currency pairs.
So do you have a tradecopier that works from mt5 to mt4 ?
Yes, I have. I'm using my own copier.